ABOUT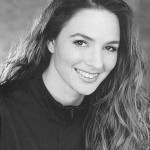 Krista Harris is considered an expert in her field of Wellness – Massage Therapy, All Natural Body Contouring, Yoga. Cleansing Coach, Qi Gong Instructor and Aerial & Partner Acrobatics.  She is Licensed in Massage Therapy in Georgia and Florida, Board Certified and a professional member of Associated Bodywork & Massage Professionals. She is also the first to bring the practice of "Ashiatsu Oriental Bar Therapy" to Atlanta and a "Master Trainer" of Lypossage.   Krista also speaks on various topics and leads workshops that relate to the expertise in her fields.
Krista's clients include various yoga studios, CEOs, professional athletes, entertainers and musicians around the U.S. She is recognized as a wellness expert and has over 18 years experience in private practice and a lifetime of passion for body work and holistic wellness.
With a nearly lifelong background in the Health and Fitness Industry, Krista is a graduate of the Academy of Somatic Healing Arts and since then has received continued training in the field of Massage, Yoga, Aerial & Partner Acrobatics, Qi Gong and Wellness from many well recognized schools, experts and organizations in US and Internationally.  She has a background in competitive Fitness, Triathlons, Adventure Racing, Orienteering, Yoga and Aerial Acrobatic Performance of Aerial Silks and Acrobatic Yoga.  In addition, she is a 3 time Georgia State Yoga Asana Champion, having represented the State of Georgia in 3 US Yoga Asana Championships.  She is also a qualified Coach and Judge under the official guidelines of the USA Yoga Federation.
Hours:
By Appointment
Mon 10am – 8pm
Tues 9am – 7pm
Wed 10am – 8pm
Thur 9am – 7pm
Fri 9am – 5pm
Sat 10am – 2pm