Thai & Fly – July 9 & 10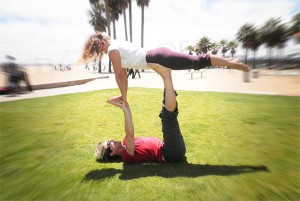 Thai & Fly: Come expand your practice into the realms of shared touch and joyous flying in this fun filled two day workshop
When – Sat July 9th and Sun July 10th, 2011 1:30-4pm
Where – Marietta, GA 30067
Cost – $70 for two day workshop $35 for Sat only. $5 pre-registration discount by Sat July 2nd
What to bring/wear – Wear comfortable snug fitting athletic clothes and bring a yoga mat. No partner necessary
Workshop Description – In this workshop, you will explore the yoga of partnership, by first deepening your practice with a partner, then by experiencing the freedom of flying freely, and finally wrapping up with some juicy Thai Massage. Day two will expand both the flying and Thai into deeper levels of the practice.