Friday, December 7th, 2012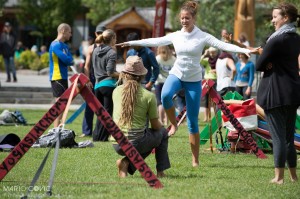 Slackline yoga (or slackasana) has been described as "distilling the art of yogic concentration."  To balance on a 1? piece of webbing lightly tensioned between two trees is not easy, and doing yoga poses on it is even more challenging.  Yet despite the seemingly impossible nature of the act, it is achievable by almost anyone with a little bit of perseverance and patience.  The practice has many layers, simultaneously developing focus, dynamic balance, power, breath, core integration, flexibility, and confidence.  Utilizing standing postures, sitting postures, arm balances, kneeling postures, inversions and unique vinyasa, a skilled slackline yogi is able to create a flowing yoga practice without ever falling from the line.
Watch video: http://bit.ly/SlacklineYoga
BLOG:  http://yogaslackers.blogspot.com/
WEB: www.yogaslackers.com
Fri. Dec. 14th 2pm till Dark (FREE Intro Donation Based Jam)
Sat. Dec. 15th 9-1 ($35)
Sun. Dec. 16th  11-1 ($35)

Sat & Sun $60

Details Below:
Friday Dec. 14, 2012
2pm to Dark
FREE Intro and Donation Based Jam:

YogaSlackers Donation Based Jam: Slacklines, Bases, Flyers, Handstands and More

Sam and Raquel of the YogaSlackers, have spent the last 50 days traveling around the Southeast sharing the art of Slacklining, Handstands and AcroYoga and their last stop in 2012 will be in Atlanta.  If you have never heard of the YogaSlackers or have reservations about investing in learning these art forms come by the park for a brief introduction in a sportive environment.
Bring finger foods and friends and  we will provide Strong Pretty Bases, Pretty Strong Flyers and Slacklines ranging from 20 to 200 feet.
Location – Blackburn Park 3493 Ashford Dunwoody Rd. NE Atlanta, Georgia 30319

Saturday Dec. 15, 2012
9am-11am
SLACKLINE YOGA
LEVEL 1: FUNDAMENTALS of SLACKLINE YOGA
We guarantee that you will learn to SLACK in 90 minutes, or your money back!!! The Slackline Series is a unique practice that teaches complete body awareness, helping you to redefine your sense of balance and mental focus. Slacklining is great for yogis, climbers, couch potatoes, and athletes of all kinds.
In this 90 min Slackshop you'll learn the basics of the Slackasana series.
This includes standing (commitment), kneeling (core strength), sitting (focus), arm balancing (breath), as well as exercises for more seasoned slackers to expand their comfort zone on the line. All skill levels encouraged to come. No experience necessary. Location – Sky Gym 6780 Roswell Rd. Suite D-100 Sandy Springs, GA. 30328
SLACRO:

The Art of Blending Slackline Yoga and Acrobatics
LEVEL 1
Slackline Yoga Fundamentals Class or Some Slackline, Yoga or Acrobatics experience suggested.
We will use a partner, a slackline and the ground to perfect and breakdown movements used in acrobatics and on the slackline. For example, an acrobatic knee balance can be used to mimic the movement of the slackline. Please be familiar with: walking, kneeling, sitting, basic arm balances and surf stance on the slackline OR Basic "L" basing or flying. This Slackshop is great for the Acrobat wanting to learn to slackline or the Slackliner who wants to learn acrobatics.
Location – Sky Gym 6780 Roswell Rd. Suite D-100 Sandy Springs, GA. 30328