WORKSHOPS
THAI YOGA MASSAGE Friday May 10, 2013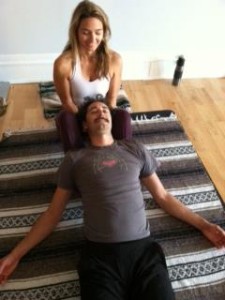 6:30 – 7:45pm
$15, $12 with valid student id
FUN Friday at Be Yoga 105 Church St. Marietta, GA. 30064
Learn Thai Yoga Massage, a synthesis of Yoga, Ayurveda and Meditation.  It incorporates rhythmic motion, palming and thumbing along energy lines, gentle stretching and breath work creating a slow flowing dance around the recipient's body.  Not only does it stretch and tone muscles Thai Yoga Massage also improves circulation, relieves muscular tension, helps speed up metabolism, boosts the immune system and balances the body energetically inducing a calm mental state. 
Bring your Yoga Mat and wear fitted, comfortable easy to move in clothing.  Bringing a friend or partner is encouraged but not necessary. 
YOGASLACKERS Atlanta GA. Workshop Dec. 14-16, 2012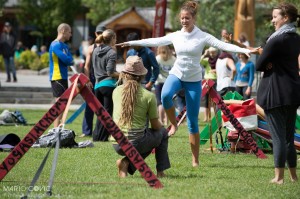 Slackline yoga (or slackasana) has been described as "distilling the art of yogic concentration."  To balance on a 1? piece of webbing lightly tensioned between two trees is not easy, and doing yoga poses on it is even more challenging.  Yet despite the seemingly impossible nature of the act, it is achievable by almost anyone with a little bit of perseverance and patience.  The practice has many layers, simultaneously developing focus, dynamic balance, power, breath, core integration, flexibility, and confidence.  Utilizing standing postures, sitting postures, arm balances, kneeling postures, inversions and unique vinyasa, a skilled slackline yogi is able to create a flowing yoga practice without ever falling from the line.
Watch video: http://bit.ly/SlacklineYoga
BLOG:  http://yogaslackers.blogspot.com/
WEB: www.yogaslackers.com
FREE Intro & Jam Friday 2pm till Dark
Sat 9-1 & Sun 11-1 $35 per class OR $60 for BOTH
Details Below:
Friday Dec. 14, 2012
2pm to Dark
FREE Intro and Donation Based Jam:

YogaSlackers Donation Based Jam: Slacklines, Bases, Flyers, Handstands and More

Sam and Raquel of the YogaSlackers, have spent the last 50 days traveling around the Southeast sharing the art of Slacklining, Handstands and AcroYoga and their last stop in 2012 will be in Atlanta.  If you have never heard of the YogaSlackers or have reservations about investing in learning these art forms come by the park for a brief introduction in a sportive environment.
Bring finger foods and friends and  we will provide Strong Pretty Bases, Pretty Strong Flyers and Slacklines ranging from 20 to 200 feet.
Location – Blackburn Park 3493 Ashford Dunwoody Rd. NE Atlanta, Georgia 30319

Saturday Dec. 15, 2012
9am-11am
SLACKLINE YOGA
LEVEL 1: FUNDAMENTALS of SLACKLINE YOGA
We guarantee that you will learn to SLACK in 90 minutes, or your money back!!! The Slackline Series is a unique practice that teaches complete body awareness, helping you to redefine your sense of balance and mental focus. Slacklining is great for yogis, climbers, couch potatoes, and athletes of all kinds.
In this 90 min Slackshop you'll learn the basics of the Slackasana series.
This includes standing (commitment), kneeling (core strength), sitting (focus), arm balancing (breath), as well as exercises for more seasoned slackers to expand their comfort zone on the line. All skill levels encouraged to come. No experience necessary.Location - Sky Gym 6780 Roswell Rd. Suite D-100 Sandy Springs, GA. 30328
SLACRO:
The Art of Blending Slackline Yoga and Acrobatics LEVEL 1
Slackline Yoga Fundamentals Class or Some Slackline, Yoga or Acrobatics experience suggested.
We will use a partner, a slackline and the ground to perfect and breakdown movements used in acrobatics and on the slackline. For example, an acrobatic knee balance can be used to mimic the movement of the slackline. Please be familiar with: walking, kneeling, sitting, basic arm balances and surf stance on the slackline OR Basic "L" basing or flying. This Slackshop is great for the Acrobat wanting to learn to slackline or the Slackliner who wants to learn acrobatics.
Location - Sky Gym 6780 Roswell Rd. Suite D-100 Sandy Springs, GA. 30328
PAST WORKSHOPS
AcroYoga Immersion Training – Elemental
When – Sat Nov. 10th – Wed. Nov 14th, 2012
Where – 105 Church St. Marietta, GA. 30064
What to bring/wear - Wear comfortable snug fitting athletic clothes and bring a yoga mat. No partner necessary
SCHEDULE & OPTIONS:
Nov 10-14 9am-5pm, Lunch 12-2

FULL 5 Days $395 Before OCT 10th, $495 After.
SKILLS COVERED: Supine & Prone Thai Massage, Forward & Backward Therapeutic Flying, Spotting & Inversions, Acrobatic Training Techniques & Flying Transitions
ITINERARY AND WHAT YOU LEARN:
Day One: Cultivating Awareness and Receptivity focus on body mechanics & sensitivity of connections between bodies. Review foundations & make sure everyone receives a common language for the practice that we can all build upon. Focus is on Forward Flying movements.
Day Two: Acrobatic Technique and Training Full morning of conditioning & Technical Training, afternoon covers spotting techniques as we train inversions, & calibrations in Acrobatic flying
Day 3-5 Mornings: Conditioning, Inversion Practice, Acrobatic Flying Transitions (These are catered to each group according to the overall interest & ability). Afternoons: Thai Massage & Therapeutic Flying Sequences (covering more forward flying, back flying, Twists and therapeutic transitions.)
Day 5 Morning: Conditioning & Inversion Practice. requests are taken and demonstrated. Students work more mysore style (working on the skills of their choice, with the instructors available to help them learn/refine),  Afternoon: Transitions continue Flying, Flying & more Flying.. ending with some freestyle Thai Massage & Therapeutics and Closing Circle
Each Elemental Immersion teaches the same structure for days 1&2, Days 3-5 move to serve the dynamic of the group so although mornings are generally acrobatic & the afternoons more therapeutic, we focus the types of skills and content to meet the group where they are at.
Students should have a comfortable yoga practice & be comfortable with working on inversions. Students can practice the flows from the AcroYoga manual.
Thai & Fly: Come expand your practice into the realms of shared touch and joyous flying in this fun filled two day workshop
When – Sat July 9th and Sun July 10th, 2011  1:30-4pm
Where – Marietta, GA 30067
Cost - $70 for two day workshop $35 for Sat only. $5 pre-registration discount by Sat July 2nd
What to bring/wear - Wear comfortable snug fitting athletic clothes and bring a yoga mat. No partner necessary
Workshop Description – In this workshop, you will explore the yoga of partnership, by first deepening your practice with a partner, then by experiencing the freedom of flying freely, and finally wrapping up with some juicy Thai Massage. Day two will expand both the flying and Thai into deeper levels of the practice.
Couples Massage Workshop - In this fun workshop the participants will learn basic massage techniques for each to give and receive a wonderful therapeutic massage and build more intamacy.
What to bring – Bring some comfortable loose fitting shorts.  Women bring a robe.
Partners/Pregnancy Massage Workshop - In this fun workshop Fathers/Partners will learn soem basic techniques to help comfort the expecting mother as well as learn soem wonderful techniques to ease labor.  This will also help the partner feel more confident in the ability to have a move active role in the laboring/birthing process.
What to bring – Wear loose comfortable clothing easy to move in and pillows.
To reserve your spot in our next workshop email Krista@KristaH.com